First when replying to a post it is important to make sure the top line with the persons forum name and post number and all other information is included, and also the last quote box is intact.
Below in red is what I am describing.



[quote name='forum members name' timestamp='1323884952' post='283513']

This is the header of the quote and must be complete as shown with [ at the beginning and ] at the end and everything else in between.



[/quote ]

and this is the last quote box but I have added a space after the word quote which should not be there, that is so it does not make a quote box for the purposes of this example. The quote box must be intact with [/ and the last ] or the quote will not show as a quote.

Next if a person wishes to quote a part of what was written by another member, then I have found it best to copy and paste the whole post and then delete all parts they do not wish to be there while making sure the header and the last quote box is intact as shown in my examples, but of course without the space I put in added.

Or a quote can be done which will not include the members name you are quoting, by using the quote icon which is the fourth to the right of the smiley emoticon which can be found above the box we type in, and then paste what you wish to quote between the two quote boxes that will be added to your post once you have clicked on that cloud looking icon.
I find it easier to put my cursor in between the two quote boxes and make a space and then paste the part I wish to quote. Example [quote ] TYPE HERE [/quote ] Again I have added spaces after the words quote to prevent a quote box from showing.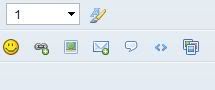 When not sure what one of those icons is for, hover your mouse on the icon and it will show what it is for.

It is usually best to preview a post by clicking on the Preview Post icon below the post to see if it came out the way you had planned it to, before clicking on the Post New Topic icon. Hope that helps.
Edited by Mr. Lee, 17 December 2011 - 03:38 PM.